Bad Island – by Doug TenNapel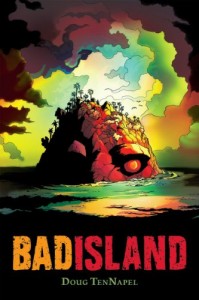 I love getting mail… especailly when it's a book… especially when that book is the newest Doug TenNapel graphic novel!
"When a family takes a boating trip, the last thing they expect is to be shipwrecked on an island—especially an island with weird, otherworldly plants and animals. Now, what started out as a bad vacation turns into a terrible one as Lyle, Karen, and their two kids, Janie and Reese, must find a way off the island while they dodge its strange and dangerous inhabitants. Is the island alive? Is it from another world? In this rousing, Swiss-Family-Robinson tale with a twist, the answers to these questions could save them… or spell their doom.
One thing Reese knows for sure:  THIS IS ONE BAD ISLAND."
(tehehehehe… I know what I will be doing this weekend)