I LOVE getting packages in the mail.  It doesn't have to be a surprise either.  I ordered a couple of books online last week and coming home to see a BIG box sitting on my porch fills me with such excitement.  In fact knowing what was in it this time even made it more exciting.  Adding now to my currently 449 art book collection are these books (amongst one other that I ordered):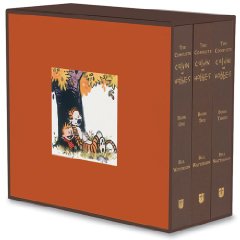 LOL… I can not express how inspirational Watterson's work is to me.  Perfectly illustrated.  Funny.  Smart.  I know a lot of artists feel the same way.  It is a great day to finally get to say "I own that"
Speaking of inspirational … I was in the theater waiting to watch a movie called "Moon" (great movie by the way) when, in between two horrible country songs I heard what I thought was a song by Radiohead.  It turned out to be a group called Muse.  A song called "New Born" off their album "Origin of Symmetry"  … wow.  I was riveted to my seat and almost forgot to whip out my trusty iPhone and tag it with Shazam… later on that night I had the whole album.  The next day I lost track of how many times I let it play through.  Great music.  I will be making my way to the record store this weekend to pick up their entire discography.